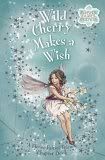 Author:
Pippa le Quesne
ISBN:
9780723258261
Pages:
80
Published by:
Warne (October 2006)
Genre(s):
Fiction, Chapter Book
Grade:
A
Challenge(s):
100+ Reading Challenge
-
Read 'n Review '09
-
Read Together 2009
-
Spring Reading Thing 2009
Wild Cherry Makes a Wish
is one of several
Flower Fairies Friends
books. I picked up six of them when hubs and I went to an overstock book store (all books are 75% off!).
From the back:

Wild Cherry is feeling very sad. She wishes that she could dance but is too shy to ask for help. Then she has a misunderstanding with Pansy, the on fairy who could teach her.

So, when Pansy is in danger and it is up to Wild Cherry to help, will she be brave enough to save her? And will her wish ever be granted?
Each book appears to have 6 chapters. Reaghan and I are on our 3rd book of the 6 that we bought and she really likes them. They each have a life lesson (I wouldn't call it a moral) that a particular fairie learns. Reaghan is only 3, so I doubt she's learning any life lesson's from the books, but I expect that over the next few years, as she learns to read on her own and rereads these book, she will learn those life lessons.
Reaghan got a little nervous when Pansy was in danger of being seen by *gasp* human children, but with some quick thinking by Wild Cherry, the children are distracted and chase some fairy dust and Cherry blossoms swirling and dancing in the opposite direction. When Pansy learns of this brave act, she asks Wild Cherry what if anything she can do to repay her. Will Wild Cherry overcome her shyness enough to tell Pansy the ONE thing that she really wants from Pansy?
Buy

Wild Cherry Makes a Wish

by Pippa le Quesne:

IndieBound
{}
Powell's
{}
Amazon