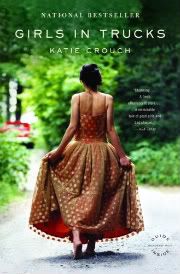 Author: Katie Crouch
ISBN:
9780316002127
Pages: 272
Published by: Back Bay Books (April, 2009 this ISBN)
Genre(s): Fiction
From GoodReads: Sarah Walters is a less-than-perfect debutante. She tries hard to follow the time-honored customs of the Charleston Camellia Society, as her mother and grandmother did, standing up straight in cotillion class and attending lectures about all the things that Camellias don't do. (Like ride with boys in pickup trucks.)



But Sarah can't quite ignore the barbarism just beneath all that propriety, and as soon as she can she decamps South Carolina for a life in New York City. There, she and her fellow displaced Southern friends try to make sense of city sophistication, to understand how much of their training applies to real life, and how much to the strange and rarefied world they've left behind.





When life's complications become overwhelming, Sarah returns home to confront with matured eyes the motto "Once a Camellia, always a Camellia"- and to see how much fuller life can be, for good and for ill, among those who know you best.



I apologize for not also posting my review as well as the giveaway. I hadn't finished writing my review before waking up this morning with a migraine. I will tell you that I am giving it a
"C
"
and that I will have my review posted as soon as I can.

Five (5) lucky blog readers will get a copy of
Girls in Trucks
courtesy of Valerie Russo! Just leave a comment here. If you do not have an e-mail link to your profile, please leave an email address in your comment. I will close this post to comments on the morning of Thursday April 30th. I will use
random.org
to select the winners. Per publisher's rules this giveaway is open to residents of the US and Canada only. No PO Boxes.
GOOD LUCK!