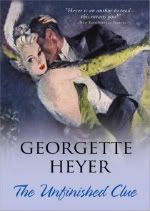 Author:
Georgette Heyer

ISBN:
9781402217968
Pages:
336

Published by:
Sourcebooks Landmark (March 2009 [
first published 1937
])

Genre(s):
Fiction, Mystery, Cozy

Grade:
A-
Challenge(s):
100+ Reading Challenge
-
Read 'n Review '09




The Unfinished Clue

is a wonderful 'English country-house' who-dun-it by Georgette Heyer (like

Behold, Here's Posion

). The victim in this case is General Sir Arthur Billington-Smith. The General is murdered the Monday after a, shall we say, stressful weekend "house party". There is no shortage of suspects even if you do not consider the fact that someone may have come into his study from the open French-doors.

Possible suspects include:

Captain Francis Billington-Smith, the General's nephew who is at the house party hoping to find the General in a good enough mood to pay off his most recent gambling debt

Basil Halliday, the General was obviously flirting with Basil's beautiful wife Camilla, who did nothing to discourage this attention

Stephen Guest, he has been in love with the General's wife Lady Fay Billington-Smith (from afar) for 2 years
Given the General's bullying disposition these are just 3 possible murderers on a very long list of suspects. There is an added element to
The Unfinished Clue
. Lady Fay's younger sister, Dinah Fawcett, is also visiting on the fateful weekend. Cool, calm Dinah is thrown a bit off center by the Inspector from Scotland Yard who is called in by the local police to help solve the murder of General Sir Arthur Billington-Smith.

At first glance, it should have been a lovely English country-house weekend party. But it's the guestlist from hell, and the host, Sir Arthur Billington-Smith, is an abusive wretch who everyone at the party Turns out to have a reason to hate. When he's found in his study, stabbed to death and clutching a torn check in his hand, the unhappy guests and estranged family find themselves under the scrutiny of Scotland Yard's cool-headed Inspector Harding.
Buy TITLE by Author:
IndieBound {} Powell's {} Amazon